Kriptomat.io is a European licensed and regulated cryptocurrency exchange. Kriptomat is a service that allows users to quickly buy and store cryptocurrency. This service has many features which make it unique, including the ability to purchase bitcoin with fiat currency, the ability to store your crypto offline in a hardware wallet, and the option of paying for goods or services at any location that accepts bitcoin payments.
Kriptomat is a service designed by professionals who understand how important it is for an investor to have access to their bitcoins at any time. It has developed a user-friendly interface which allows users to quickly purchase bitcoins with fiat currency.
They are currently offering a €10 bonus on your first trade of €100 or more.
Verify your email, phone number and identity with an ID or Passport. It's a really short process and it requires you to take a picture of your document and a selfie.

Transfer €101 to your Kriptomat account by a SEPA transfer in euros. It's important to transfer €101 as there is a deposit fee of €1.

Buy any crypto for €100. You will get your €10 bonus in BTC right after that.
Here's the most cost-efficient way to use this offer:
Buy BTC for €100. It will cost you €1.45

You will receive your €10 bonus in BTC.

Convert all your BTC to XRP. This is fee-free.

Transfer all your XRP to another exchange. I suggest Bitpanda. This only costs a few cents.

Convert your crypto to cash and withdraw it to your bank account.
Your total profit should be around €7.50 (~£7).
Here's a recap on the fees:
– Deposit costs €1
– Buying crypto for €100 costs €1.45
– Withdrawal of XRP to another exchange is only a few cents.
– BTC withdrawal is around €6, so don't withdraw BTC. I suggest withdrawing XRP as it only costs 0.02 XRP (€0.02)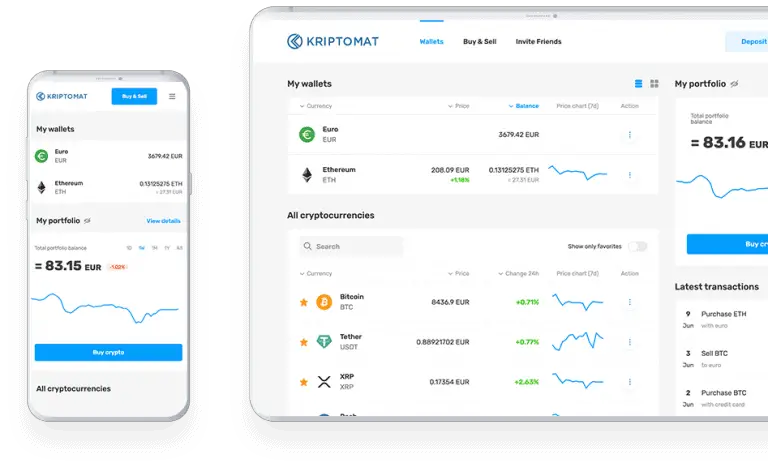 Kriptomat Features & Benefits
Kriptomat is an all-in-one cryptocurrency service that gives you the power to track trends, invest, and get the most out of your assets.
Kriptomat is a Company with a strong background in blockchain technologies, with roots stemming from its founding in 2014. The team of professionals behind Kriptomat has more than 10 years of experience working on blockchain projects.
The project is forging new paths for forging digital assets and building up new markets for decentralized assets. Their goal is to create a simple entry point into the world of cryptocurrencies with their own token called KRPT that will be used by all participants in the system.
Rates on Kriptomat
Kriptomat offers low buy/sell fees as well as withdrawal fees.
You will only pay a 1.45% fee when it comes to buying and selling cryptocurrencies with fiat money.
However, if you choose to pay with your credit card, the fee will go up to 3.7% once you make a purchase over 100EUR.
When it comes to crypto-to-crypto trading, the industry standard is about 0.25%. But, Kriptomat does not charge any commission when it comes to crypto-crypto trading.
As for withdrawal fees, they vary depending on the cryptocurrency:
Bitcoin (BTC) – 0.0006000 BTC
Ripple (XRP) – 0.0240000 XRP
Ethereum (ETH) – 0.0060000 ETH
Also, withdrawals for some cryptocurrencies are not available, so you will need to exchange them for other currencies before making a withdrawal.
Since Kriptomat is so easy to use, you will be able to do it without much trouble.
What is a Cold Storage Wallet?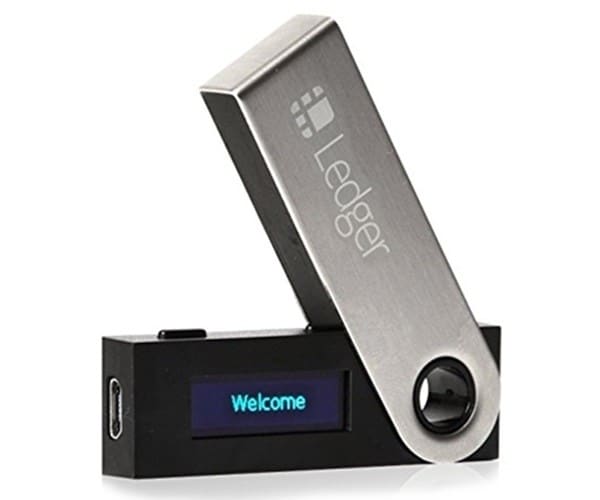 A cold storage wallet is a type of bitcoin wallet that store your private keys on a device that isn't connected to the internet. It ensures that your bitcoins are more secure from hackers and don't need to be connected to the internet for you to send or receive bitcoins.
A cold storage wallet is sometimes called a "paper wallet," "offline," "hardware," or "air-gapped" as it does not require electricity and doesn't connect directly to the internet.
Some popular ways of creating cold storage wallets include: printing the private keys onto paper until they can be transferred onto microSD cards and then onto an air-gapped computer; alternatively, generating a QR code with the private keys and storing it on paper.