Are you currently using a Wacom tablet to draw pictures? You sit down in front of your computer and get ready to work. Oh no, it seems not working today. You see an error message stating: THE TABLET DRIVER WAS NOT FOUND. You use it successfully with no problems before. But there is no need to fear. You will be relieved to know it is possible and easy to repair.
In this guide, we outline a frequent issue: an error stating that the tablet driver wasn't found. In this case, we tackle Wacom tablets users, but if you get a similar error when using a different manufacturer's tablet, employing the very same methods might also repair the issue.
A device driver is a software that offers advice to the operating system and other applications about how to interact with specific hardware. It's rather like a translator between hardware and software because they often are made by different producers, businesses, or individuals. The driver allows hardware and software to communicate easily. Generally, computers are unable to send and receive data correctly with drivers. If the suitable driver isn't installed, the device may not function correctly, if at all. A faulty driver may need updating or a reinstall.
Also read: How to Fix Netflix error: M7111-5059
In this guide, we demonstrate how to roll back drivers, upgrade, or reinstall them. Also, the way to restart the Wacom tablet services.

Restarting Wacom Service
So this is the most basic and easy method to get out of this trouble instantly. So if the Wacom tablet properties not working properly then trying using this method of restarting the Wacom tablet service. This thing is really easy to perform without any real hiccups. These are the steps to perform this method.
Press Windows key + R and then type services.msc in the dialog box of a run window which appears and click ok.
The services window will open and under this find your Wacom tablet service. Note that it is to be made sure that your Wacom tablet service has a running status. Also, note that the Wacom tablet service can vary from device to device and can have different names. The names can be tabletserviceWacom, Wacom professional service, Wacom consumer service, touch keyboard and handwriting panel service.
Now right-click on your Wacom tablet service accordingly and then click Restart in the window.
Now you can restart the computer and then check if the tablet options are working or just directly check them.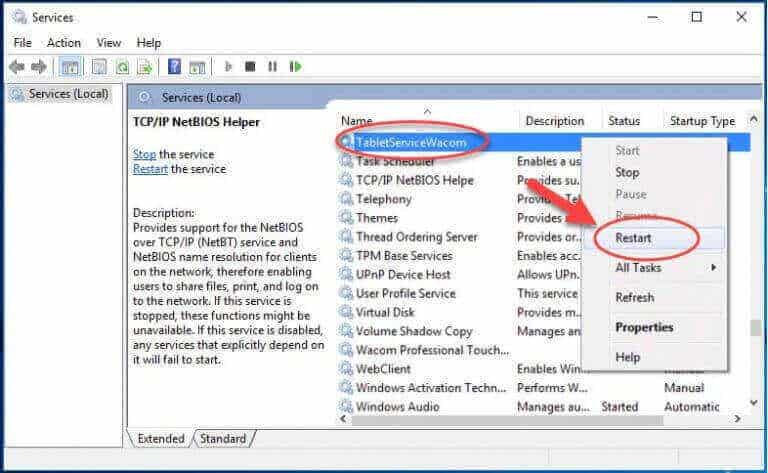 So this is the first and most important method to solve the Wacom driver not found problem.
Also read: FireDL codes for Firestick
Reinstall your Wacom tablet driver
This is the second method and also is a very important one, as well as this, can solve your issue instantly. Sometimes this problem is caused by the old, missing or corrupt tablet driver on the device. In such a situation uninstallation of the tablet, the driver method can be used or tried. The following are the steps to do it.
Unplug the Wacom tablet from your personal computer.
Then install the Wacom tablet driver.
Then go to the Wacom website and find the most recent and updated correct driver for your Wacom tablet. The correct driver must be compatible with the windows 10.
Download the correct Wacom tablet driver and install it.
Then, in the end, restart the personal computer and re-plug the Wacom tablet with your computer.
Also read: Windows: Software Reporter Tool Causing High CPU Usage
Creating a Batch File
If you have Wacom tablet working every time you use method one, you can create a batch file on your desktop. This will make it easy for you to restart the service without having to open the services and restart it manually again and again.
Right-click on your Desktop and select "New Text Document".
Type the following code in the text document:
@echo off
NET STOP WTabletServicePro
timeout /t 5 / nobreak > NUL
NET START WTabletServicePro
timeout /t 2 / nobreak > NUL
Save the file to your Desktop. Now rename it and set the name as "bat". Make sure that you remove the .txt extension and replace it .bat
You can click this and it will automatically restart the service so the problem gets fixed. If simply clicking it prompts a UAC error, right-click it and select "Run as administrator".