The laptop experience can be liberating, especially if you work on the go. They let you take your productivity anywhere, and you can even relax with them. Working, streaming, gaming, or studying are all easier with one.
The issue is figuring out which ones are worth your time. You can look at specs, but these change all the time and don't mean much if the build quality holds it back. When it comes to popular laptop brands, there are at least ten powerhouses to consider.
These include companies known for producing reliable daily drivers. They also have those known for gaming or creative flexibility. We've ranked 10 of the most popular laptop brands below to help you in your quest.
Apple
Apple has long been one of the most popular laptop brands in the world for a while. MacBooks have also long been on the receiving end of jokes for being expensive underperformers. The idea that Apple could make a top performer, not only a shiny toy, is anathema to many Windows users.
That used to be the case, but everything changed with the arrival of the M1 chip. Apple switched from Intel chips and developed their own in-house ARM M1 chip.
In late 2020, they switched the MacBook Air and Pro lines to the new chip, and it didn't take long for Apple to push again. The M1 Pro and M1 Max chips are even faster.
The M1 chip can go toe to toe with anything AMD or Intel can throw at it. In most tests, it surpasses them, and the Pro can even hold its own in the gaming arena. The best part is every MacBook comes with at least the base M1.
This means you can score an $800 MacBook Air that outperforms anything else in that price range. Finally, MacBooks are able to justify their prices on more than style and preference.
HP
The reliability that HP has become known for is now joined by improved style and function. The Spectre and Envy lines are beautiful and pack a punch too. The Spectre x360, in particular, is more than a match for Microsoft's Surface Laptops.
The reason for HP's inclusion so high on this list of popular laptop brands is their drive to innovate. They keep churning out a variety of high-quality laptops that push the envelope. The Spectre line offers AMOLED for gorgeous displays while their 2-in-1 options are top class.
Intel's new 11th-gen Tiger lake chips are a welcome addition and give HP a good performance boost. Their Elite Dragonfly line is a good thin option with phenomenal battery life. The many options of HP laptops are great for business, school, or pleasure.
HP makes reliable, high-quality laptops at fair price points that always deliver. They have more top-tier variety now than they've ever had, and they still offer the same world-class customer service.
Dell
It's no exaggeration to call Dell a laptop powerhouse. They have some of the best laptops on the market with their XPS series. The Latitude 74000 2-in-1 is also a world-class business laptop.
Dell's stellar reputation is due to its high-quality ultra-books. They're fast, powerful, light-weight, and super portable. The battery life is nothing to sneeze at either.
They last longer than many of their competitors and are versatile enough for work, school, or pleasure. The XPS series can do it all and is even available with the new 11th-gen Intel Tiger lake chips. They come with a steep price at around $1,500 for the XPS13, but they make up for it.
Their build quality is top-notch on XPS models, with high-res screens and a good webcam. They come in a variety of sizes and price points. XPS 13, 15, and 17 models can even do some gaming – which is impressive considering the under-$2000 price.
Dell even offers good budget options with the Inspiron 14 and 15 series. Many of these boast the new Intel chips, and some offer 2-in-1 functionality, all for a $300-$600 price range.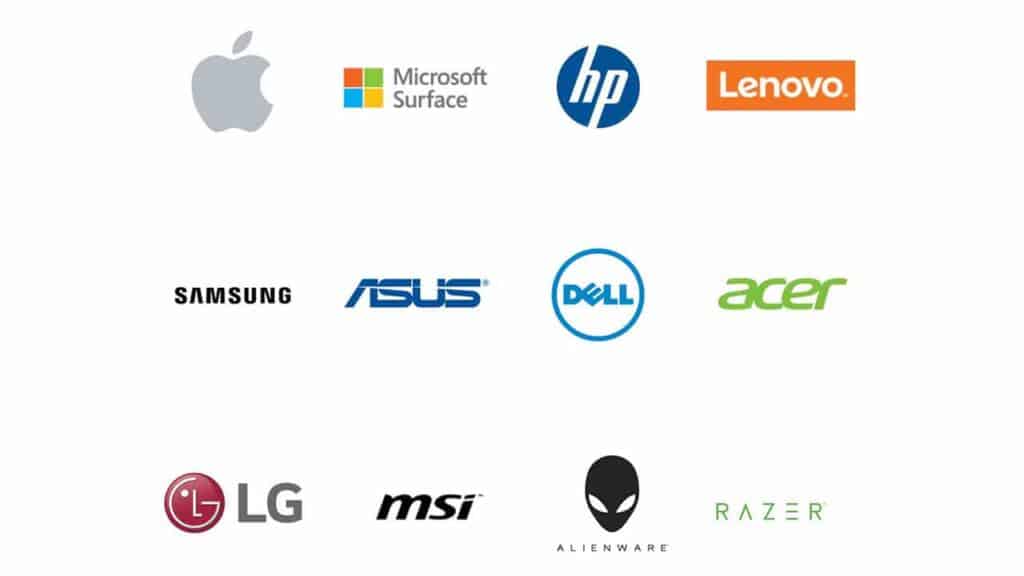 Lenovo
Lenovo tends to be at the higher end of the spectrum in terms of price, but you get what you pay for. The materials are fantastic, and the design has seen tons of improvement over the years.
The Lenovo brand used to have a reputation as a trustworthy workhorse. It sacrificed aesthetics for performance and reliability. This reputation is still intact but is looking sleeker than ever.
The Lenovo ThinkPad X1 Carbon Gen 9 is a stand-out laptop with performance and premium design. The whole XI Carbon line goes toe to toe with the best business laptops on the market. The ThinkPad and IdeaPad lines also have great all-rounders.
Students and white-collar professionals alike appreciate the reliability and longevity of Lenovo. The brand also has excellent customer care and service – some of the best in the industry. Their Flex Chromebooks are affordable too, and the Yoga line is in a class of its own for versatility, style, and functionality.
They boast a good array of 2-in-1s beyond the Yoga line, and their Legion series of gaming laptops give Razer and MSI a real run for their money. Lenovo has premium and top-class options, and you can always find deals on laptops with them.
Asus
Asus deserves a spot as one of the best laptop brands. They've been a force in the market and have become synonymous with budget-friendly and powerful laptops.
Their variety of affordable chrome books is a staple for many students on a tight budget. They deliver great quality even at under $300. Those looking to step up can look at Asus's amazing lineup of Zenbooks.
Zenbooks are ultrathin, ultra-fast, and rival most of their competition. Asus's attention to detail and aesthetic sense is also on full display with the Zenbook 13. Its stunning OLED screen, great battery, and sense of style give it a premium feel.
Asus is also well known for its Republic of Gamers (ROG) line of gaming laptops. They've earned Asus a reputation as one of the best laptop brands for gaming. The Asus ROG Zephyrus G14, in particular, is quite the beast.
It has a 120Hz refresh rate, Ryzen 9 4900HS CPU, and a GeForce RTX2060 graphics card – all for $1,600. Asus has more monsters in its arsenal, but the Zephyrus G14 is a hit for the price tag. This is despite stiff competition from Razer and MSI.
Asus' customer support is also quite direct and friendly. If you don't like calling, you can chat with support live or even use social media to get quick responses. Despite being smaller than giants like Dell and HP, Asus still give you a free year of spill and accident warranties to boot.
Acer
Another popular brand you'll often see in the mainstream market is Acer, and there's a good reason for it. Acer is one of the most reasonable and budget-friendly options available for laptops. It also has a wide range of choices depending on your needs.
Laptops like the Acer Aspire 5 are great affordable options. They can sit next to Asus for student-friendly pricing while still getting the job done. More powerful options like the Acer Swift 5 put Intel's new 11th-gen chips to the test.
There's another thing that puts Acer in the list of most popular laptop brands. The Acer ConceptD 7 Ezel is a one-of-a-kind, creative design.
2-in-1 models have been all the rage lately, but only Acer would raise the bar to give us six unique positions of use. It's designed with creatives and artists in mind to give you as much flexibility as possible. It still packs plenty of performance punch, too, making it a nice ace up Acer's sleeve.
Microsoft
When Microsoft first got into the laptop game, they weren't very popular. People weren't ready for a tablet-like UX and laughed off Microsoft's Surface line as not for them.
When it comes to PC, it seemed like Microsoft could do no wrong, and many preferred the familiar Windows experience. Fast forward a few years, and the Surface Pro 8 is one of the best 2-in-1s on the market. This shouldn't be surprising.
The popularity of Microsoft's hybrid approach sparked the current craze of 2-in-1s. The Surface Book 3 is a strong option, while the Surface Go 3 is very budget-friendly. The Surface Laptop Studio is on the horizon, with creatives of all types excited.
For business professionals, the Surface Pro X is on the table too. The main drawback to Microsoft laptops is kitting it out with the best specs tends to drain the bank. That said, Microsoft offers a great warranty, good customer service, and has an army of fans willing to pay.
MSI
MSI is the opposite of most gaming laptop companies. They all produce strong gaming contenders that can also power through work tasks. Where they differ is in style and approach.
MSI leaves the frills and RGB lighting out of the process, for the most part. They try to deliver what gamers crave most – performance. To this end, they succeed more often than not, and it's garnered them a strong popular following.
The streamlined approach also saves on costs. This makes the MSI Prestige 14 Evo available for under $900, making it one of the best gaming laptops under $1000. At the other end of the spectrum, the 2021 MSI GS66 Stealth is in a league of its own.
It offers fantastic 1440p gaming at a whopping 240- 300Hz refresh rate and good frame rates. The design and materials are good, and the battery is on the higher end for gaming setups. It will run you north of $2,700, putting it in the same arena as the Razer Blade.
Razer
It's no secret Razer has a reputation for being flashy. That said, it's the lack of ornamentation that draws people to the Razer Blade line of laptops. For the past few years, they've taken a page out of MSI's book to prioritize function over form.
That said, there's nothing dull about the Razer Blade 15. Its sleek, premium, and no-nonsense look hides an absolute monster underneath. It starts at $1600 for the base model, which is comparable to similar counterparts from Asus ROG and MSI.
At $3,000 you get what might be the absolute best performing gaming laptop in the 15inch category. It uses the latest parts, has top-of-the-line specs, and still matches battery expectations. While it's true you can get the new MSI GS66 Stealth for $200-300 less; it's a difference many are willing to pay for.
Gaming isn't all Razer can do either as the Razer Book 13 is a growing favorite in the 13-inch category. It offers exceptional performance compared to its competition. The ability to power through work at such a compact size justifies its $1,400 price tag.
Samsung
Samsung is a giant in the tech space, so they should have some serious resources to pull from. As far as phones, appliances, and even computers go, they tend to stay near the head of the pact. For laptops though, they round out our list at 10th.
Samsung has some of the absolute best customer services you'll find in the laptop field. Their reputation is something customers bank on when taking a gamble on a Samsung laptop.
Samsung has been in the laptop game for a while too, but they've often run into issues. The biggest is the premium feel and potential of the Galaxy Book is being held back by a wobbly hinge. Fans are optimistic that Samsung will iron these issues out and push for better batteries.
The introduction of the Intel Evo platform is a step in the right direction for Samsung. There is hope that it can leverage Intel's 11th-gen chips for better performance. The Galaxy Book Pro currently sits in the $1,200 range, which can feel steep, but expectations are still high.
Popular Laptop Brands Worth Your Time
Laptops have become essential for everything, including work, studying, and pleasure. The portability and power make them necessary to have. That said, there are several popular laptop brands competing for your money.
The brands with the best reputations have experience and innovation in spades. They revolutionize and push the boundaries with higher specs, performance, and looks. Check out our site for the latest on laptops and which ones are worth your time.