Gaming experience satisfaction level depends on the hardware and software support we have on our system, if you want to be a pro gamer then you need specialized hardware components to enjoy the games up to its peak levels.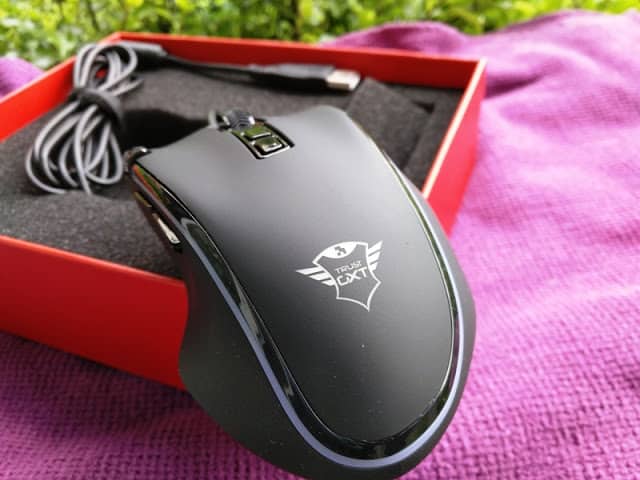 Brief Specs:
| | |
| --- | --- |
| Type | Wired |
| USB version | 2.0 |
| Buttons | 8 |
| Programmable buttons | Yes |
| Programmable macro's | Yes |
| On-board memory | Yes |
| Adjustable weights | No |
| RGB Illuminated | Yes |
| Cable type | Non Branded |
| User | Right-handed |
| Grip type | Palm |
| Game type | MOBA/MMO/RTS/FPS/RPG |
| Cable length | 1.8m |
| LED | Yes |
| Gliding pads | UPE |
| Mouse size |  128x70x39 |
| Weight | 113g |
| Warranty | 1 years |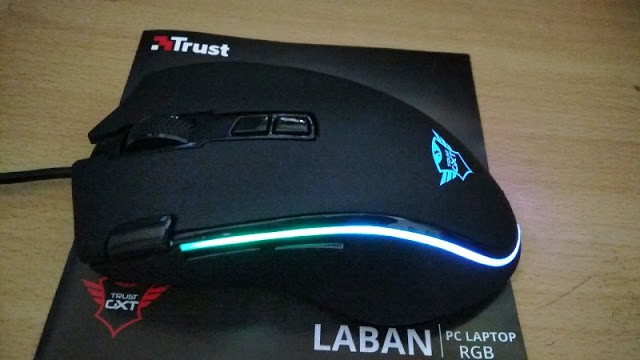 Sensors
| | |
| --- | --- |
| Model | Pixart PMW3360 |
| Technology | Optical |
| DPI | 100-15000 |
| Tracking Speed | 300ips |
| Acceleration | 50g |
| Polling rate | 125/250/333/500/1000Hz |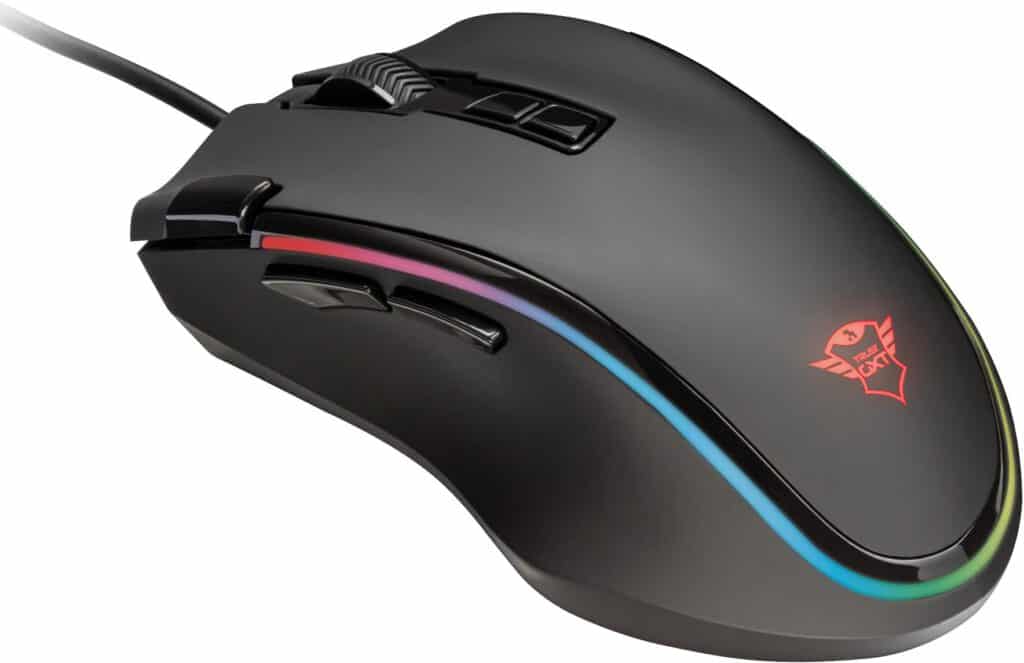 Overview
Trust GXT 188 Laban RGB Gaming Mouse – We got another mouse to try and review! Trust sent us a GXT 188 Laban that has more DPI than you can feel in hand, enough built quality and space along with different buttons to fulfill the vast majority of your needs, and RGB Supports 16.8 M colors. During our 5 days use of the Trust Laban, I never had any dissension with the mouse. On account of its Pixart PMW3360 sensor, the mouse is exceptionally responsive and accurate. The Laban mouse accompanies an Optical sensor, so there are no lights flying out from behind the mouse.
Build and Feel
This gaming mouse looks premium in the box itself; in hands, it gives the feel of smooth matte finish structure with the strong grip. The big shape of the mouse fits comfortably in hands, exactly as the need to play the games as a pro. Rough patterned grip from the side gives more grip on the mouse, in any case, it doesn't feel slippery or uncomfortable.
Accuracy
Experimenting with the mouse on various surfaces, I tried the mouse on a fabric mouse pad, finished surfaces, glass, bed sheets, and the mouse worked impeccably on each surface. Gaming on the mouse felt somewhat unique amid an initial couple of minutes, yet once I got used to the mouse, it felt like enchantment. I was tapping headshots all over.
Buttons
Trust GXT 188 ergonomic mouse comes with 8 programmable buttons Click (on left top), left click, right click, scroll wheel, 2 side buttons and 2 DPI buttons. Download the software from www.trust.com/21789/driver to configure the buttons, customization of the button and changing the functionality of each button made easy this software. The buttons are placed perfectly to reach them and there is enough space between two buttons on the side so that you can operate freely. The guiding pads help move the hands quicker and buttons are pretty responsive.
Gaming Experience
Using Trust GXT 188 Laban RGB mouse we played assassin creed game for almost 2 hours, the experience was fantastic. We customized the functionality of the buttons using the software downloaded, modified DPI settings too. Responsiveness from the buttons, high-speed tracking, solid grip in hands and comfortness in the hands made the gameplay awesome.
After that we played some action games, shooting games with same settings for our surprise action games can be played much better than the casual games. For quick moves, fast hiding, quick aim and shoot gxt 188 Laban mouse is perfect.
Other Features
Discussing the LED impacts of the mouse, there are 4 LED special glowing effects on the mouse stripe bar which is 7 colors mixed breath, full color light, breathing and the wave impact. In 7 RGB colors breath, the mouse will inhale 7 distinct hues in a circle. In full lit, the LEDs will illuminate 1 single shade of your decision and won't inhale or do anything. This one is for the individuals who incline toward only solitary stable color glowing.
At that point, we have the breathing impact in which your preferred color will continuously glow. This is like the 7 colors breath, yet the main distinction is that just a single color will relax. The last one and my most loved LED impact is the wave impact. This impact will demonstrate a rainbow impact in which the LEDs will move in a U shape from either left to right or from right to left contingent upon how you need it. You can likewise change the wave speed from low to high.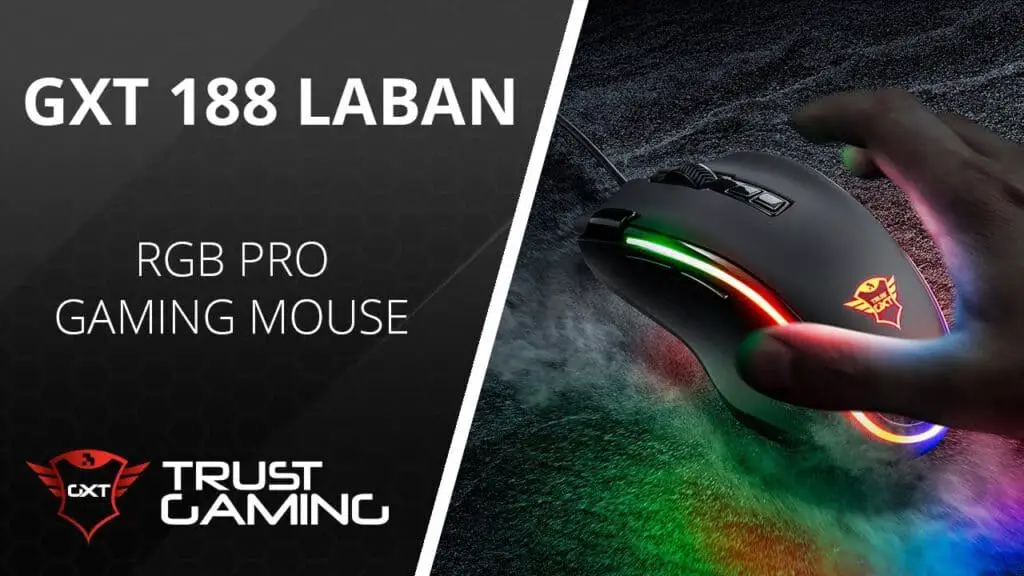 Conclusion
On our review, the trust gxt 188 laban mouse performed well. The accuracy of tracking, speed, button responsiveness, solid grip in hands and smooth flow would make this mouse a must need hardware component for gaming. People who wants to enjoy the actions games, battle games and more adventure games which requires solid mouse support can opt out for this pro gaming mouse.
Overall rating 4/5
You can buy this mouse from Amazon – check price here.