The Software-as–a-Service (SaaS) sector is highly competitive and businesses operating in it must find effective ways to stand out. The use of video marketing for SaaS is one of the best ways to boost your software company's online presence and grow both your sales and profits.
Why should you consider video marketing for SaaS?
If you are not sure whether using videos to market your SaaS business is a wise move, here are some of the most important reasons to consider it:
Many people are looking for answers to their problems on the internet and like to watch videos to understand the various solutions that are available. This means that your potential customers are already online, and you will get your message to them by using video marketing for SaaS. This explains why YouTube, the video-sharing platform, ranks as the second-largest search engine.
Many customers (around 88%) say that their buying decision has been influenced by viewing a brand's videos.
Most people say they retain a significant portion of the information when they get it through a video.
People spend more time on websites with videos.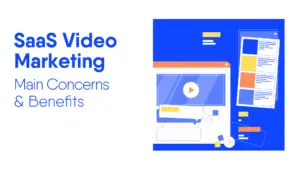 What are the best ways to employ video marketing for SaaS?
Here are some of the ways you could use videos in marketing your software business:
Create demo videos
People yearn for new knowledge and constantly seek ways to solve various issues that they may have. The internet is one of the places they seek those solutions, so you can use explainer videos to teach them how your company's software and other offerings can resolve their issues. If you need help creating demo videos and implementing video marketing for your SaaS company, you can partner with experts such as Rocket SaaS.
Use company videos
Many people out there feel like technology companies are just money-minting ventures with little or no human feelings. However, you can change this perception as a software company by creating and posting a company video that lets people glimpse your business's heart and soul. You let people see and know your company and demonstrate its passion. This way, you can build a stronger bond with your audience and stand a better chance of getting more business from them.
Share customer support videos
Besides acquiring customers, you need to work on retaining them. This is a key factor that will enhance your profitability. Luckily, you can employ video marketing for SaaS by sharing how-to videos so that both your existing customers and potential new ones can get the help they need, enjoy a better user experience with your product, or address their pain points.
In addition, if users seek specific answers from the customer support team, the customer service personnel can quickly share links to helpful videos to answer their questions. Such videos can help make troubleshooting easier and enhance the support process, improving customer satisfaction. This also reduces the cost of customer support.
Use social videos
People tend to share videos much more often than they share images or text. More decision-makers that make B2B deals are now using social media to look for solutions. They also seek recommendations from their peers using social platforms. To tap into the advantages of your promotions on social media, employing videos to market your SaaS business is the best way to go. You can use videos to start conversations, increase the reach of your posts, and retain meaningful engagement with your audience.
Wrapping up
You should consider using video marketing for SaaS to take your software business to the next level. Videos are a crucial element you can't ignore in today's marketing mix.